Antiproliferative and anti-inflammatory acyl glucosyl flavones from the leaves of Bursera copallifera
Keywords:
Bursera copallifera, Burseraceae, anti-inflammatory activity, antiproliferative activity, acyl glucosyl flavones
Abstract
Bursera copallifera(DC) Bullock (Burseraceae) is a plant species used in folk medicine for the treatment of inflammation (bronchitis, cough). The dichloromethane-methanol extract (DML) of B. copallifera leaves was found to possess important antiproliferative and anti-inflammatory activities. In order to further correlate these activities with the phytochemical components, the bioactivity-guided fractionation of the DML extract allowed the isolation of an active fraction which was constituted of five compounds characterized as as luteolin-3'-O-(3''-O-E-p-coumaroyl)-α-L-rhamnopyranoside (1), luteolin-3'-O-(2''-O-E-p-coumaroyl)-α-L-rhamnopyranoside (2), a-amyrin (3), 3-epilupeol (4) and stigmasterol (5). Among the five isolated constituents, the triterpenes 3 and 4, and the sterol 5 have been already well known by their anti-inflammatory properties. Flavone 2 (Luteolin-3'-O-(2''-O-E-p-coumaroyl)-α-L-rhamnopyranoside)was responsible for the antiproliferative activity, showing in vitro cytotoxic activity against MCF-7 human cancer cell line with IC50 value of 13.9 µM. By the other hand flavone (1) exhibited COX-1 inhibition (IC50 = 93 mM). Flavone 1, together with the triterpenes 3 and 4 were the responsible for inhibiting TPA-induced inflammation by inhibit COX-1 enzyme. Therefore, these results support the traditional use of the infusion made with the leaves of B. copallifera as an anti-inflammatory agent.
Downloads
Download data is not yet available.
References
Maltese, F.; Erkelens, C.; Kooy, F. V. D.; Choi, Y. H.; Verpoorte, R. Food Chem 2009, 116, 575–579.
Bano, S.; Javed, K.; Ahmad, S.; Rathish, I. G.; Singh, S.; Chaitanya, M.; Arunasree, K. M.; Alam, M. S. Eur J Med Chem 2013, 65, 51–59.
Plazoni?, A.; Bucar, F.; ?eljan, M.; Mornar, A.; Nigovi?, B.; Kujund?i?, N. Molecules 2009, 14, 2466–2490.
Singh, M.; Kaur, M.; Silakari, O. Eur J Med Chem 2014, 84, 206–239.
Andersen, O. M.; Markham, K. R.; Flavonoids: Chemistry, Biochemistry and Applications. Taylor and Francis. Boca Raton, EUA, 2006.
Monroy, C.; Castillo, P. Plantas medicinales utilizadas en el estado de Morelos. 2a edición. Comisión Nacional para el Conocimiento y Uso de la Biodiversidad. Universidad Autónoma del Estado de Morelos. Cuernavaca, Mor, 2007.
Linares, E.; Bye, R. Biodiversitas 2008, 8–11.
Hernández-Silva, D. A.; Cortés-Díaz, E.; Zaragoza-Ramírez, J. L.; Martínez-Hernández, P. A.; González-Bonilla, G. T.; Rodríguez-Castañeda, B.; Hernández-Sedas, D. A. Acta Zool Mex 2011, 27, 47–66.
Guízar, N. E.; Sánchez, V. A. Guía para el reconocimiento de los principales arboles del Alto Balsas. 1991.
Aldana, L.; Salinas, D. O.; Valdés, M. E.; Gutiérrez, M.G. V. Polibotánica 2010, 29, 149–158.
Lautié, E.; Quintero, R.; Fliniaux, M. A.; Villarreal, M. L. J Ethnopharmacol 2008, 120, 402–412.
Cárdenas, R.; Serrano, J. J. R.; Llanos-Romero, E.; Aguirre-Hernández, E.; Herrera-Santoyo, J.; Zúñiga, B.; Rodarte, B.; Alba-Lois, L.; Guevara-Fefer, P. J Entomol 2012, 9, 115–122.
Romero-Estrada, A.; Maldonado-Magaña, A.; González-Christen, J.; Marquina, S.; Garduño-Ramírez, M. L.; Rodríguez-López, V.; Alvarez, L. BMC Complement Altern Med 2016, 16, 1–10.
Columba-Palomares, M. C.; Villareal, M. L.; Acevedo Quiroz, M. E.; Marquina Bahena, S.; Alvarez, L. P.; Rodríguez-López, V. Pharmacogn Mag 2015, 11, 322–328.
Parra-Delgado, H.; Ruiz Garcia, G.; Nieto Camacho, A.; Martínez-Vazquez, M. Rev Soc Quím Méx 2004, 48, 293–295.
Pezzuto and Suffness. Assays related to cancer drug discovery. Academic Press. London, 1991.
Chibli, L. A.; Rodrigues, K. C.; Gasparetto, C. M.; Pinto, N. C.; Fabri, R. L.; Scio, E.; Alves, M. S.; Del-Vechio-Vieira, G.; Sousa, O. V. J Ethnopharmacol 2014, 154, 330–338.
Blain, E. J.; Ali, A. Y.; Duance, C. V. Phytother Res 2010, 24, 905–912.
Navpreet, K.; Chaudhary, J.; Akash, J.; Lalit, K. Int J Pharm Sci Res 2011, 2, 2259–2265.
Nakanishi, T.; Inatomi, Y.; Arai, S.; Yamada, T.; Fukatsu, H.; Murata, H.; Inada, A.; Matsuura, N.; Ubukata, M.; Murata, J.; Iinuma, M.; Perez Farrea, M. A.; Tanaka, T. Heterocycles 2003, 60, 2077–2083.
McAdam BF, Catella-Lawson F, Mardini IA, Kapoor S, Lawson JA, Fitzgerald GA. Proc Natl Acad Sci USA 1999, 96, 272–277.
Martel-Pelletier, J.; Lajeunesse, D.; Reboul, P.; Pelletier, J. P. Ann Rheum Dis 2003, 62, 501–509.
Shashank, K.; Abhay, K. Sci World J 2013, 4, 32–48.
Zhou, Z.; Wei, X.; Fu, H.; Luo, Y. Fitoterapia 2013, 88, 91–95.
Skehan, P.; Storeng, R.; Scudiero, D.; Monks, A.; McMahon, J.; Vistica, D.; Warren, J. T.; Bokesch, H.; Kenney, S.; Boyd, M. R. ?J Natl Cancer Inst 1990, 82, 1107–1112.
Kuete, V.; Dzotam, J. K.; Vounkeng, I. K.; Fankam, A. G.; Efferth, T. BMC Complement Altern Med 2016, 5, 1–12.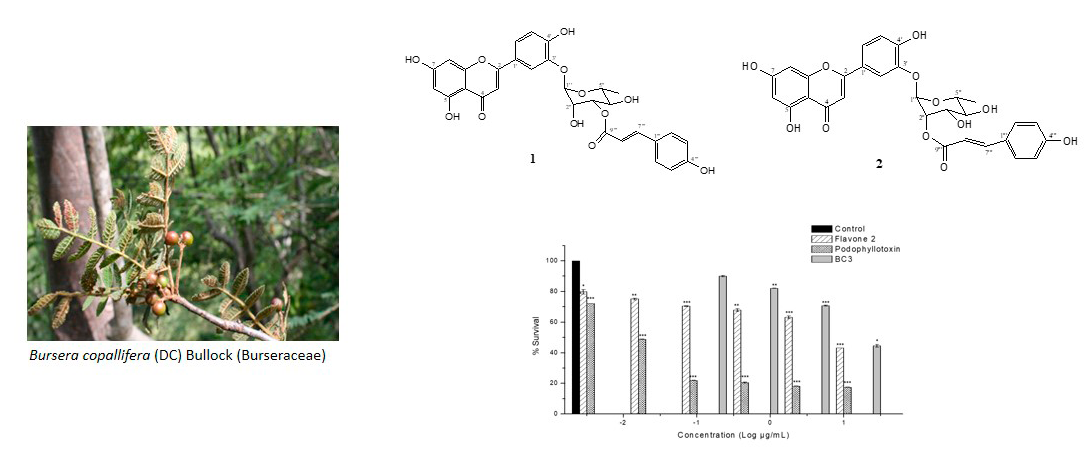 Downloads
Additional Files
License
Authors who publish with this journal agree to the following terms:
Authors retain copyright and grant the journal right of first publication with the work simultaneously licensed under a Creative Commons Attribution License that allows others to share the work with an acknowledgement of the work's authorship and initial publication in this journal.
Authors are able to enter into separate, additional contractual arrangements for the non-exclusive distribution of the journal's published version of the work (e.g., post it to an institutional repository or publish it in a book), with an acknowledgement of its initial publication in this journal.