Green Synthesis and Antibacterial Activity of Cobalt Nanoparticle from Calotropis gigantae
Sauban Ghani

Jubail Industrial College

Farheen Ghani

Patna University
Keywords:
Nanoparticles, synthesis, characterization, hydrodynamic, zeta potential, zone of inhibition
Abstract
Abstract. Cobalt nanoparticles (CoNPs) were successfully synthesized by taking a simple green synthetic route using metal salts and flower extracts of a wild plant Calotropis gigantea which act as reducing as well as the stabilizing agent. The synthesized Cobalt nanoparticles (CoNPs) were characterized using various techniques such as UV-visible spectrophotometry and Fourier transform infrared spectrometry. Size characterization of the samples was made by Dynamic light-scattering (DLS) and Transmission electron microscope (TEM). The micrographs of the synthesized CoNPs showed the formation of spherical nanoparticles with an average size of 13 ± 5 nm. The CoNPs were stable at room temperature (25 °C) for six months. Zeta potential values provided an indirect measurement of the net charge on the Cobalt nanoparticles (CoNPs) surface. The antibacterial activities of cobalt nanoparticles (CoNPs) were studied under varying concentrations of CoNPs with respect to Staphylococcus aureus and Escherichia coli.                                            
Resumen. Las nanopartículas de cobalto (CoNPs) se sintetizaron con éxito al tomar una ruta sintética verde simple usando sales metálicas y extractos de flores de una planta silvestre Calotropis gigantea que actúa como agente reductor y estabilizador. Las nanopartículas de cobalto sintetizadas (CoNPs) se caracterizaron utilizando diversas técnicas, como la espectrofotometría UV-visible y la espectrometría infrarroja por transformada de Fourier. La caracterización del tamaño de las muestras se realizó mediante dispersión dinámica de luz (DLS) y microscopio electrónico de transmisión (TEM). Las micrografías de los CoNPs sintetizados mostraron la formación de nanopartículas esféricas con un tamaño promedio de 13 ± 5 nm. Los CoNPs fueron estables a temperatura ambiente (25 °C) durante seis meses. Los valores potenciales de Zeta proporcionaron una medición indirecta de la carga neta en la superficie de nanopartículas de cobalto (CoNPs). Las actividades antibacterianas de las nanopartículas de cobalto (CoNPs) se estudiaron bajo concentraciones variables de CoNPs con respecto a Staphylococcus aureus y Escherichia coli.
References
Zhang, X. F.; Liu, Z. G.; Shen, W.; Gurunathan, S. Int. J. Mol. Sci. 2016, 17, 1534-1568.
Bar, H.; Bhui, D. K.; Sahoo, G. P.; Sarkar, P.; Dey, S. P.; Misra, A. Colloids Surf. A. Physicochem. Eng. Asp. 2009, 339, 134-139.
Diallo, A.; Beye, A. C.; Doyle, T. B.; Parka, E.; Maaza, M. Green Chem. Lett. Rev. 2015, 8, 30-36.
Thovhogi, N.; Diallo, A.; Gurib, A. F.; Maaza, M. J. J. Alloys Comp. 2015, 647, 392-396.
Ingle, A.; Gade, A.; Pierrat, S.; Sonnichsen, C.; Rai, M. Curr. Nanosci. 2008, 4, 141-144.
Das, R. K.; Sharma, P.; Nahar, P.; Bora, U. Mater. Lett. 2011, 65, 610-613.
Singhal, G.; Bhavesh, R.; Kasariya, K.; Sharma A. R.; Singh, R. P. J. Nanopart. Res. 2011, 13, 2981-2988.
Mondal, A.; Mondal, A.; Adhikary, B.; Mukherjee, D. K. Bull. Mater. Sci. 2017, 40, 321-328.
Manigandan, R.; Giribabu, K.; Suresh, R.; Vijayalakshmi, L.; Stephen, A.; Narayanan, V. Chem. Sci. Trans. 2013, 2, 47-50.
Farhadi, S.; Safabakhsh J.; Zaringhadam, P. J. Nanostruct. Chem. 2013, 3, 69-78.
Yang, H. T.; Su, Y. K.; Shen, C. M.; Yang, T. Z.; Gao, H. J. Surf. Interface Anal. 2004, 36, 155-160.
Prabhu, B. M.; Ali, S. F.; Murdock, R. C.; Hussain, S. M.; Srivatsan, M. Nanotoxicology, 2010, 4, 150-160.
Alarifi, D.; Ali, S.; Verma, A.; Alakhtani, S.; Ali, B. A. Int. J. Toxicol. 2013, 32, 296-307.
Saif, S.; Tahir, A.; Asim, T.; Chen, Y. Nanomaterials 2016, 6, 205-220.
Wang, L.; Hu, C.; Shao, L. Int. J. Nanomed. 2017, 12, 1227-1249.
Ramalingam, B.; Parandhaman, T.; Das, S. K. ACS Appl. Mater. Interfaces, 2016, 8, 4963-4976.
Alzahrani, K. E.; Niazy, A. A.; Alswieleh, A. A.; Wahab, R.; Toni, A. M. E.; Alghamdi, H. S. Int. J. Nanomed. 2018, 13, 77-87.
Birla, S. S.; Tiwari, V. V.; Gade, A. K.; Ingle, A. P.; Yadav, A. P.; Rai, M. K. Lett. Appl. Microbiol. 2009, 48, 173-179.
Fayaz, A.; Balaji, K.; Girilal, M.; Yadav, R.; Kalaichelvan, P.T.; Venketesan, R. Nanomedicine 2010, 6, 103-109.
Nguyen, V. Q.; Ishihara, M.; Kinoda, J.; Hattori, H.; Nakamura, S.; Ono, T.; Miyahira, Y.; Matsui, T. J. Nanobiotechnol. 2014, 12, 49-58.
Giannousi, K.; Sarafidis, G.; Mourdikoudis, S.; Pantazaki, A.; Samara, C. D. Inorg. Chem. 2014, 53, 9657-.9666.
Rudramurthy, G. R.; Swamy, M. K.; Sinniah, U. R.; Ghasemzadeh, A. Molecules 2016, 21, 836-866.
Rios, J. L.; Recio, M. C.; Villar, A. J. Ethnopharmacol. 1988, 23, 127-149.
Samia, A. C. S.; Schlueter, J. A.; Jiang, J. S.; Bader, S. D.; Qin, C. J.; Lin, X. M. Chem. Mater. 2006, 18, 5203-5212.
Ahmad, A.; Mukherjee, P.; Mandal, D.; Senapati, S.; Khan, M. I.; Kumar, R.; Sastry, M. Colloids Surf., B. 2003, 28, 313-318.
Nabikhan, A.; Kandasamy, K.; Raj, A.; Alikunhi, N. M. Colloids. Surf. B. 2010, 79, 488-493.
Farhadi, S.; Javanmard, M.; Nadri, G. Acta Chim. Slov. 2016, 63, 335-343.
Xu, R. Particuology 2008, 6, 112-115.
Bhattacharjee, S. J. Control. Release 2016, 235, 337-351.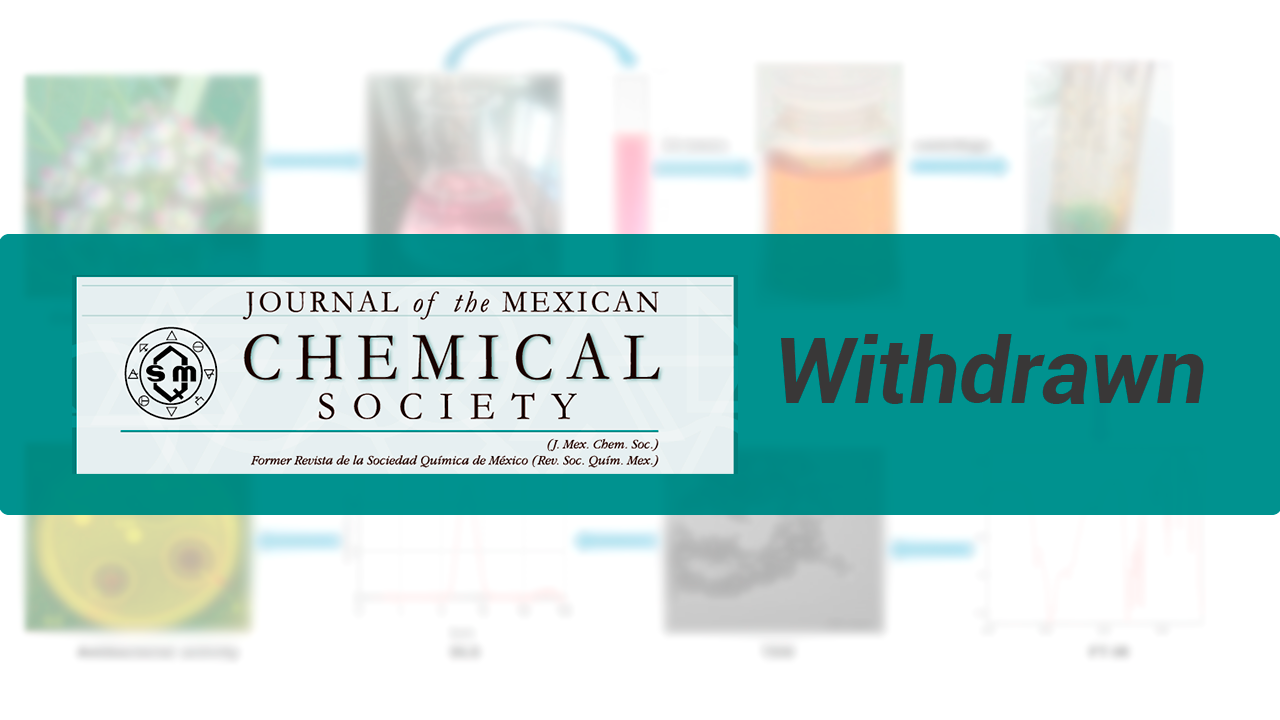 Copyright (c) 2020 Sauban Ghani, Farheen Ghani
This work is licensed under a Creative Commons Attribution-NonCommercial 4.0 International License.
Authors who publish with this journal agree to the following terms:
Authors retain copyright and grant the journal right of first publication with the work simultaneously licensed under a Creative Commons Attribution License that allows others to share the work with an acknowledgement of the work's authorship and initial publication in this journal.
Authors are able to enter into separate, additional contractual arrangements for the non-exclusive distribution of the journal's published version of the work (e.g., post it to an institutional repository or publish it in a book), with an acknowledgement of its initial publication in this journal.